MECCA OF THE SOUTHWEST PLEIN AIR WORKSHOP
PAINT TAOS | GHOST RANCH
SANTA FE | NEW MEXICO
WITH
SHELLI ROBINER-ARDIZZONE
AUGUST 21 – AUGUST 30, 2011

---
REGISTER NOW!
A DEPOSIT OF $650 BY MARCH 1ST WILL RESERVE YOUR SPACE
A FANTASTIC PRICE COST FOR 11 DAYS/10 NIGHTS OF $1640!!

---
Visiting Taos, New Mexico in 2007 was a peak experience for me. The names Taos and Santa Fe evoke colorful and exotic artistic visions of the Southwest.

There is nothing like experiencing the cobalt canopy of sky and the pink high desert colors of the area. It is special and urges artists to break out of their color comfort zones.

Your inner artist will never forget the time spent on the turquoise trail, the mountains, canyons, huge skies, cascading streams, and 360 degree sunsets. Seeing this land through a painter's eye will add further insights about color to your process. It has the power to transform your work and perhaps your life.

This land is the inspiration for countless artists' visions and works of art. If this is a trip you have been dreaming about, then this is the time in your life to take advantage of the great itinerary planned for 2011. I invite you to give yourself a gift you will never forget.


Yours in Art,

Shelli


---
---
TAOS | 8/21 - 8/27

* 7 days & 6 nights painting in Taos
* Spectacular and varied plein air sites
& sunset vistas
* Visit Taos Pueblo
* Gallery visits
* Guest demo
* Lodging at historic and gracious
Sagebrush Inn
* Breakfast and dinner included

GHOST RANCH | 8/27 - 8/28

* 2 days & 1 night with all meals included
* Ghost Ranch is the historic & creative inspiration
for Georgia O'Keefe's great American paintings!
* Tour Georgia O'Keefe painting sites at Ghost Ranch
* Landscape Tour of Ghost Ranch
* Sunrise painting possible
* Evening Campfire under the stars
* Photograph and paint Ghost Ranch





SANTA FE | 8/28 - 08/30



* Featuring Santa Fe guest instructor
TBD
* 3 days & 3 nights in Santa Fe
* Plein air painting in Santa Fe
* Visit the

Georgia O'Keefe Museum


* Convenient lodging at town favorite,


Garretts Desert Inn

located near
the Plaza
* Easy access to Canyon Road Galleries
* Excellent dining nearby
* Summer Indian Market on 8/20 - 8/21
* All accomodations are based on double occupancy

There will be both morning and afternoon painting sessions en plein air with a midday break for lunch. The days will also include individualized
instruction along with instructor demos. Painters are welcome to work in oils, pastels, acrylics and watercolors.

Materials list and daily schedule will be supplied upon registration. A branch of the Artisans Art Store located in both Taos & Santa Fe.


August is the perfect time for plein air painting in Taos & Santa Fe, NM. Join, Shelli for a great plein air adventure and


Experience the Art of the Southwest!

---

ARTIST INSTRUCTOR

Shelli Robiner-Ardizzone has led workshops for 10 years. She has given workshops at the Women's Studio Center, Great Neck Adult Education,
The National Art League, & The Art Guild. She also teaches Art Workshops at the Newark Museum. She has been awarded a residency at the
Vermont Studio Center and grants from National Academy School and Art Students League where she is a Life Member. Shelli is a member of the
Pastel Society of America.

REGISTER NOW!
A DEPOSIT OF $650 BY MARCH 1ST WILL RESERVE YOUR SPACE
A FANTASTIC PRICE COST FOR 11 DAYS/10 NIGHTS OF $1640!!


TO REGISTER CALL OR EMAIL

CALL JEANNIE @ ESPLANADE TRAVEL
(718) 597-1414
JRW.ESPTRAVEL2@VERIZON.NET

SHELLI ROBINER-ARDIZZONE
ARTZONENY@EARTHLINK.NET



East Meets West Plein Air Painting 2008

"Taos was the experience of a lifetime for me, a dream come true. The hotel was not only comfortable and the food excellent, but it was situated perefctly for all the scenic/subject excursions."

"An excellent re-grounding for any individual who wants to devote a week strictly to the observence of the beauty of nature. It's not often one can devote oneself 24/7 to the passion of art and the company of likeminded devotees."

- Rose Ann, Bay Shore, NY
Student Testimonial from 2008



Click here to view more of Shelli's 2007 memmories of Taos on the Events page of this site.


---
PERFECTLY PLEIN AIR IN COASTAL MAINE
Acadia Workshop Center




Shelli Robiner-Ardizzone



Oil, Pastel or Watercolor
July 26 - 30, 2010
---
PLEIN AIR BOOT CAMP

Painting outdoors is absolutely NOT like studio painting. There is nothing like being IN your painting, IN the physical world, IN sun, wind, fresh air and IN the MOMENT totally involved. You cannot get the feeling unless you do it, and Shelli can help you find your way.

This is for studio painters who wish to challenge their comfort level and plunge into Plein Air in the best possible setting - with expert guidance in COASTAL MAINE.

LEARN THE ESSENTIALS of plein air painting as Shelli Robiner-Ardizzone takes you through the basics of color mixing with a limited palette, values and color clues, and selecting great compositions on-site, in gorgeous Maine vistas.

This PLEIN AIR BOOT CAMP workshop will also include a combination of demos and individual guidance, quick and extended studies, and group critiques that will increase your color awareness and expand your painting skills and confidence.

There will be optional evening studio time in the excellent facilities of the Acadia Workshop Center and local seacoast dining.

SHELLI ROBINER-ARDIZZONE is a Studio and Plein Air Painter, garnering awards in both oil and pastel media. She has organized painting workshops in San Miguel de'Allende, Mexico, Taos, NM, and Tryingham, MA. Presently, she is teaching at The Newark Museum, NJ, and various Long Island, NY art centers.

ALL LEVELS OF PLEIN AIR EXPERIENCE AND PAINTING WELCOME!
$550 Workshops run 5 days, M-F, unless noted otherwise. SUPPLY LIST to come.


View a slide show from the 2009 workshop, below:
---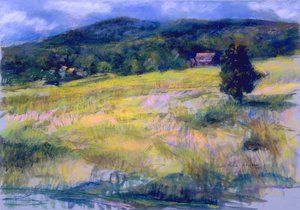 TO REGISTER & FOR MORE INFORMATION, visit: www.acadiaworkshopcenter.com

TO CONTACT Shelli Robiner-Ardizzone, visit: www.shellirobiner-ardizzone.com and at artzoneny@earthlink.net

FOR LODGING contact Jeannie at (718) 597-1414 or jrw.esptravel2@verizon.net




---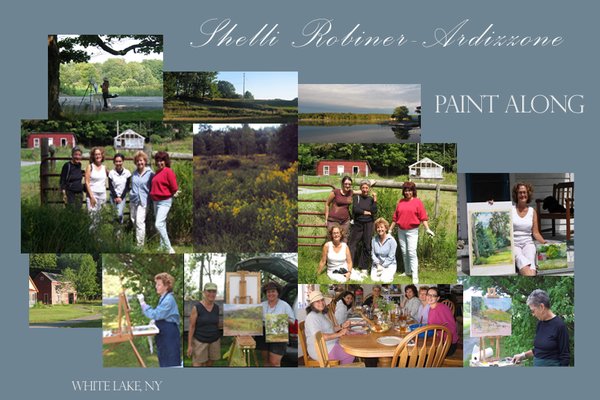 PAINT ALONG

SUMMER 2009 - COBALT

, NY
AUGUST 22-23

&

AUGUST 29-

30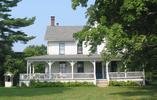 BIG DOINGS AT COBALT
Missed the
Acadia
Workshop, no Problem !! Back from Maine, Shelli will get you involved in this fun approach to painting ANYthing ANYwhere.

On the property there are many areas of interest, the farmhouse, small barn, country views up and down the road, and rolling hills across the road. A short walk will find many field views, and even a small lake/pond Materials will need to be carried and set up in all areas. If one has a car, other sites may be discovered.

Participants will be free to move around the property finding painting inspiration, or to relax, and wait until the muse kicks-in. This is not a class, so you arrange the times to paint, where and with or without a buddy. Comments from Shelli Robiner-Ardizzone will be available if desired. Mostly it is to paint PLEIN AIR, but not restricted to in the country, with fellow painting pals. Flower and still life materials may be set up.

PAINT-OUT
Will involve LHVPAP, Lower Hudson Valley Plein Air Painters call, for the Paint-Out at Cobalt, maybe Sullivan county group also. One day during the week. All are welcome. Rooms available on a first come first serve basis.

PAINT ALONG
Plein Air, with Shelli, and Artists of all levels invited to have a great time outside, with a little bit of coaching available.

WORKSHOPS
PLEIN AIR LIMITED PALETTE AND PALETTE KNIFE WORKSHOP
Using a triad of color, You can mix up a storm of colors fast and clean using your palette knife, and this SYSTEM (don't you love that word !)

---

PARTICIPATION IN THE PAINT OUT INCLUDES
FOOD

LODGING PER DIEM
Payable to Shelli Robiner-Ardizzone to confirm reservation.
Kitchen access for breakfast, lunch & snacks is always OPEN. Don't forget, Dinner is NOT included but communal evening dinners, indoors or out, are lots of fun. Costs of this meal are shared among those at the meal. Non-painting guests, if room permits.


LODGING INCLUDES THE FOLLOWING
Single room, linens, pillow, towels, blankets, and a few fans are available, NO AC.
---
EVENTS
Marvelous Music Concert Series at Bethel Woods (site of the original Woodstock).
Schedule varies every summer, See
www.Bethelwoodslive.org
for weekend events.
Outdoor Venue Farmers Markets in Liberty, NY & in Callicoon, NY, on Sun AM, farm fresh
seasonal food.
---

View our Cobalt Memoir on the Events page:

http://www.impactfolios.com/sheljoe/page4400.htm


For directions click below:
---
Contact:


Shelli Robiner-Ardizzone
Phone: (917) 723-3362
COBALT STUDIOS
PO Box 79, 134 Royce Road
White Lake, NY 12786